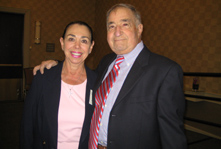 Friends of Californians with Disabilities, Inc.,
(Friends, Inc.) is an all-volunteer organization with no paid employees.

We are a non-profit 501(c)(3) organization, and through our fund-raising efforts and financial donations, we provide financial support to organizations and in some instances to individuals that are in line with our mission and goals. Friends, Inc. also provides services as a fiduciary agent for related organizations that currently do not have one of their own.
ABOUT US
Friends, Inc. played and continues to foster, a major leadership role in the partnership that created such innovative, and nationally acclaimed projects as the California Youth Leadership Forum for Students with Disabilities (YLF), the Media Access Office, Media Access Awards and the Windmills Disability Awareness Diversity Training Program.
MISSION
Our mission is to continue our leadership in developing local, statewide and national partnerships that increase employment and independent living opportunities for people with disabilities.
HISTORY
More than twenty years ago, the volunteer members of the former California Governor's Committee on Employment of People with Disabilities created Friends, Inc., a private non-profit 501(c)(3) corporation to enable the volunteer members from private corporations to financially support the committee's unique special projects. Although no longer formally affiliated with the committee, now reorganized as the California Committee on Employment of People with Disabilities, Friends, Inc., continues to work in partnership with the committee and numerous other private and government entities to increase employment, education and independent living for people with disabilities.
SHARING CALIFORNIA'S SUCCESS
Many of the innovative programs developed in partnership with Friends, Inc., have now been shared and/or duplicated with our partners and other organizations throughout the nation and in many other countries, including Canada, France and Japan. Despite our great strides, the extraordinarily high unemployment and poverty rates for people with disabilities make our continuing challenge clear.