MEDIA ACCESS AWARDS
Celebrating Disability in the Entertainment Industry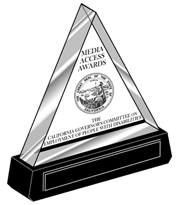 Since 1978, Friends of Californians with Disabilities, Inc. has been a partner in honoring the media and entertainment industries with the Media Access Awards.
Recipients are honored for their efforts in promoting: Awareness of the Disability Experience, Accurate Character Portrayals, Innovative Themes, Accessibility, Increased Employment in the Industry, Non-Traditional Casting, and Depiction of the Diverse American Scene.
For more information on the current activities of the Media Access Awards visit mediaaccessawards.com.